Angus Tourism Marketing Toolkit
---
The Angus tourism marketing toolkit below aims to provide some guidance to businesses, and will be updated regularly as things change.
Find out the latest business support and advice available including guidelines for businesses and funding.
---
Visit Angus is the area marketing campaign that aims to raise the profile of Angus as a visitor destination.
The focus of the Visit Angus campaign is mainly digital. The Visit Angus online channels are used to promote visitor attractions, places to eat and stay and what's on in Angus. The Visit Angus website hosts a variety of assets including suggested itineraries and blogs about Angus.
Visit Angus Facebook has almost 12,500 'likes' and Instagram has almost 3,000 followers. In 2019, the Facebook page reached over 1.9 million people.
The 'My Angus' campaign aims to encourage people (residents and visitors) to share their experiences of Angus using #MyAngus.
During this time, Visit Angus will focus messaging around current guidance, taking into account what the guidance permits at each stage and how businesses are operating.
---
Current Activity
Advent Calendar
The annual Visit Angus advent calendar will return to facebook from 1 to 24 December with a great prize on offer every day, each donated by an Angus tourism/hospitality business.
In 2019, this campaign reached over 187,000 people and we hope to achieve the same level of success in 2020.
Please look out for competition posts every day and share on your channels to help us reach the maximum level of engagement and promote Angus businesses.
Insider's Guide
The 'Insider's Guide to Angus' campaign is being undertaken by the Pride of Place working group, led by Visit Angus. The guide consists of 100 unmissable experiences in 10 different categories. These experiences have all been finalised and work is ongoing to create assets around these to promote the guide to residents and visitors.
Blog pieces have been created for 8 of the 10 categories to date, and work is ongoing to create 10 short films. A comms plan for this campaign will be produced in due course.
Visit Angus App
The development of a Visit Angus app is progressing well. The app has been created in collaboration with the Angus Tourism Framework marketing group and 7 community groups representing each town. There are over 70 different stops identified on the app as places of interest for visitors. Each stop has a description, picture gallery, and links to any relevant films. Each town trail will link back to visitangus.com which will showcase places to eat, stay and visit per town area. Currently, the app developer is working on interactive content including augmented reality, 360 images, old vs new image contrast, and some fun games. The app will have a quiz aimed at children and information on active travel including plotting the electric vehicle charging hubs throughout Angus.
---
Good to Go
A UK-wide industry standard and consumer mark has been launched to provide confidence as the sector works towards reopening.
The scheme allows businesses to highlight that they are adhering to government guidance and have carried out a Covid-19 risk assessment.
Help us to ensure that the Visit Angus website is as up to date as possible. Please get in touch to let us know if you are Good to go, so that we can add it to the website
Please also update your VisitScotland business listing.
---
Assets
The following assets are available for tourism businesses to use in promoting Angus.
Please note not all of these assets will be relevant, depending on the current restrictions at any given time Please use judgment when promoting any particular asset.
---
Angus Tourism Huddles
The Angus Tourism Cooperative are organising a programme of tourism huddles. These events are a great opportunity to connect with other tourism businesses and organisations. Check the ATC Eventbrite page for upcoming events.
---
Visit Angus Safely – Graphic to accompany blog
 If you'd like a copy of the graphic below to use on your website or social channels, please contact us.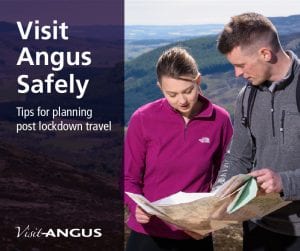 ---
Visit Angus Website Updates
The Visit Angus website will be updated to reflect the current situation during different stages of the Scottish Government roadmap.
Visit Angus Listings
If you have new opening times, closures, ticketing etc., please let the web team know.
Blogs
New blogs will be added, reflecting the current situation and will include things to see and do during the restrictions.
---
Tourism Trail App
A new Visit Angus app is being developed which will have 10 stops/locations which were agreed by the marketing industry group as part of the Angus Tourism Framework. There is a stop in each town as well as the glens, Edzell and Glamis. The app aims to encourage visitors to explore more of Angus and hopefully encourage people to stay longer.
There are currently 4 sub town trails being added, each with 10 stops/locations. These town trails are being developed by the community as part of the Town Centre Fund. These towns include Arbroath, Brechin, Carnoustie and Montrose.
The app will link back to visitangus.com where visitors can find out more about what there is to see and do in Angus, where to stay, where to eat and what's on.
---
Get Involved
Tourism businesses can get involved in the Visit Angus campaign in a number of different ways.
Social Media:
Tag @visitangus on social media so we can help share updates with our followers. Use the hashtags listed in this toolkit above.
List your business:
The Visit Angus website features information on where to stay, where to eat and drink, what to see and do and events taking place throughout the year in Angus. To ensure you have an up to date business listing, simply complete this form.
Plans revealed for £500million Montrose renewables-led project which could bring 2,000 new jobs Learn More
Montrose Port has been selected by SSE Renewables as the operations and maintenance base for a £multi-billion Seagreen Offshore Wind Farm project. Learn More
A strategy to increase the value of tourism across the Tay Cities Region by over £100m in the next five years has been officially launched. Learn More